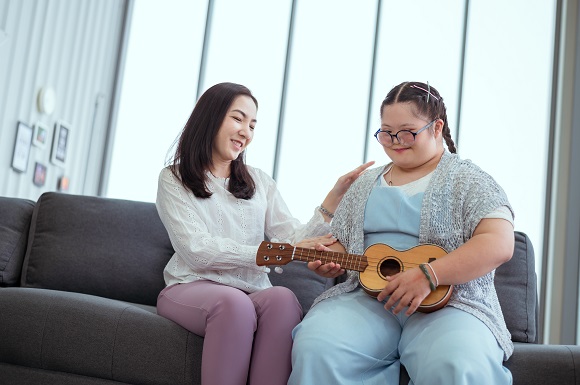 Recreational activities and extracurricular activities can provide children with ASD with many helpful benefits. They can help them practice their social skills and communication skills. Fun activities can also help improve their self-confidence, encourage Positive Behavior, and provide them with healthy outlets to express themselves.
Here are a few fun activities we think can help children with ASD promote their Mental Health and quality of life:
Finger Painting or Clay Art
Art is a great outlet for children with special needs to express themselves. It will also help promote their communication skills and creativity. Things can get messy, but finger painting or clay is a great way to introduce them to the world of art.
Playing a Musical Instrument
Much like art, music can also be a great medium for children with ASD to express themselves. Learning a musical instrument can also be a fun hobby or pastime for them. Many behavioral health services like our ABA Services in Kissimmee, FL, incorporate art and music to help children with special needs.
Spending Time Outdoors and in Nature
It can be easy for children with ASD to experience sensory overload, increasing the risk of stress and anxiety. Spending some time outdoors can be the perfect activity for children who can feel overwhelmed by too much sensory stimulus. It can help them calm down, relax, and have fun.
Here at Camen Behavioral Services, we provide Autism Service in Casselberry, FL, including extracurricular activities to help children with autism and other mental Disabilities promote their interpersonal and intrapersonal skills.
For more information about our Behavioral Healthcare in Orlando, FL, you can call us at 866-411-6619.