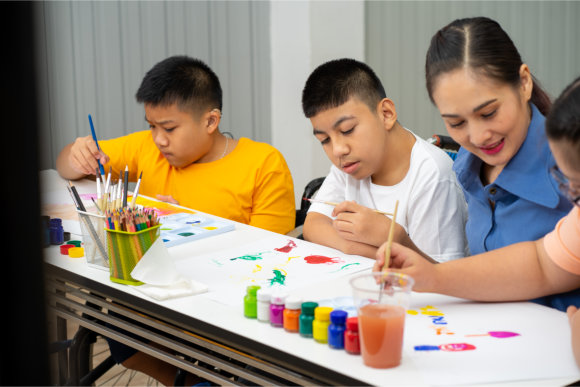 Social skills are important for building relationships, making friends, and learning, especially for children with autism, ADHD, or any related disabilities. With time and support, children with autism can develop social skills that are necessary for their holistic growth and integration into societal life. Strategies like role-playing and video modeling can help children with autism develop social skills.
Social skills teach children how to behave in a variety of social contexts, from conversing with grandparents to playing with classmates at school. They can assist your child in making new friends, learning from others, and developing hobbies and interests. These abilities can also benefit family interactions and provide your youngster with a sense of belonging. Overall, they are critical for your child's mental health and overall well-being. Children with autism can learn social skills, and they can get better at these skills with practice. Practice play, giving praise, role-play, social skills training, social stories, and visual sports can help you build your child's social skills with the help of an autism service in Waterford, FL.
Our ABA services in Kissimmee, FL can help you assess the areas in your child's life that need improvement or treatment for them to experience a better life. Behavior analysis encompasses a broad range of treatment strategies designed for everyone's specific needs, including improved social skills.
To assist your child in using skills at school, consult with your child's teacher to ensure that you are both using the same prompts for your child. It is also helpful to practice the same skills in a variety of contexts. To learn more about social skills training for your child, Camen Behavioral Services is the behavioral healthcare in Orlando, FL to call.